Everyone was a bit surprised by the choice of the college of Cardinals, not so much because of who he is, but because of how little known he was. When his name was announced there was a bit of an awkward silence from the crowd as the crowd searched their memories and a small number of people screamed.
I'm sure many of you have already read the basic biography so I'll spare you the usual and get to the summary that is important for the battle for the core, by simply introducing from what I have gathered the qualities that stand out the most from Pope Francis (Cardinal Bergoglio) and then speculating as to how they will play out.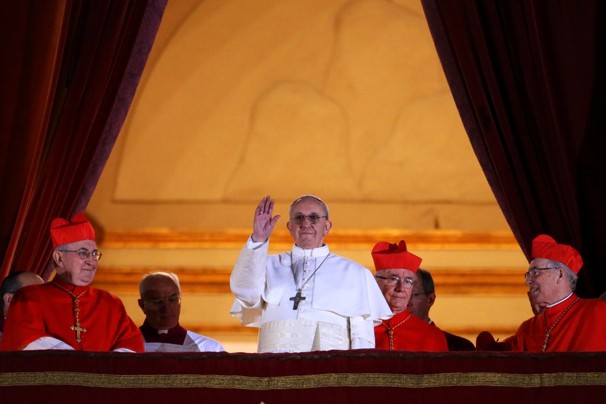 Personal Qualities
Humility/Simplicity
Prayerful
Obedient
Calm/Quiet
Pastoral Style
Gentle yet firm if violating strong convictions
Persuasive by example
Unlikely to make heads roll
Convicted
Liturgical/Aesthetic Style
His style in Rome is unclear at this time.
It is likely to be quite simple and bland even contemporary, contrasting the main contribution of Benedict's pontificate.
His first Mass as Pope was done facing the people and he struggled with doing the Confiteor in Latin.
Unlikely to continue Pope Benedict XVI's teaching of the traditional style, but would likely not oppose it from freely continuing worldwide. I hope. This is an interest of mine.
Doctrinal (in topics outside the deposit of the faith)
Nothing to suggest he is at variance with any of Pope Benedict XVI's formal teachings
Preacher rather than writer/scholar.
Unpublished
Emphasis on helping the poor rather than the discussion between faith and reason on which Benedict XVI tried to focus.
The bottom line is, he is the successor of Peter and when specially invoked, he is infallible in matters of faith and morals. 1) Personality, 2) pastoral style, 3) liturgical style and 4) unique contributions of doctrine/guidance to the already existing deposit of the faith (what has been taught before him) deserve respect but are not infallible. Traditional type Catholics, I recommend this article:
http://www.taylormarshall.com/2013/03/traditionalists-and-pope-francis-can-we.html
Catholics we owe obedience and respect for the Holy Father.